Hi, this is Ben Ellison, editor and publisher of Panbo, and this is where you can find out how to get in touch with us, how to support Panbo with advertising, and much more. But first a disclaimer that seems necessary in the age of "fake news":
The only paid advertising on this site is the ads. We appreciate our advertisers, but they have no say over editorial content and in fact––skeptics, please note––they never demand any. Moreover, Panbo does not sell any other form of advertising like text links or product placements. What you see is what you get. Please enjoy!



Contact Information & Policies
To make editorial suggestions or complaints––or to submit an idea for a guest entry (always welcome)––please contact Ben Ellison:

[email protected]

or 207-200-3430. (But please use the Panbo Forum to ask electronics questions instead of sending them directly to me.)


For information on display advertising, please contact the Ad Manager:

[email protected]

or 207-200-1884


Classified advertising is essentially a do-it-yourself operation and priced accordingly, but please report problems to

[email protected]

nbo.com


Panbo's mailing and shipping address: Panbo, 2 Bisbee St., Camden, ME 04843 USA


We encourage lively feedback and Forum entries, comment rules and edit policy here


Test equipment policy: Panbo does not accept free equipment from manufacturers except for small items, software, and gear that necessitates drilling a hole below a test boat's waterline.

Advertising
Panbo is proud to be an independent source of news and opinion about marine electronics, and we're also proud to be sponsored by the
AIM Marine Group
and further supported by a fine group of advertisers. Companies that want to present their products or services to Panbo readers can purchase display ad space directly from Panbo. The sponsorship-style program means that ads are equally rotated around our Entry and Forum pages like the ones appearing to the right. For more information, please
contact the Ad Manager
. We do not sell text links or favoritism.
Advertisers get the attention of about 75,000 unique visitors per month, as tabulated by StatCounter. Regular readers (about a third of the total, as indicated in the diagram below) are a mix of marine electronics professionals and enthusiasts, exactly the sort of folks who influence a lot of buying decisions. And the "first time visitors" are often individuals who are researching a specific product or category with the intent to purchase. Note that
Panbo Classifieds
is meant in part to be a free or very low-cost place for marine electronics manufacturers, apps developers, installers, online distributors etc. to showcase their products and services.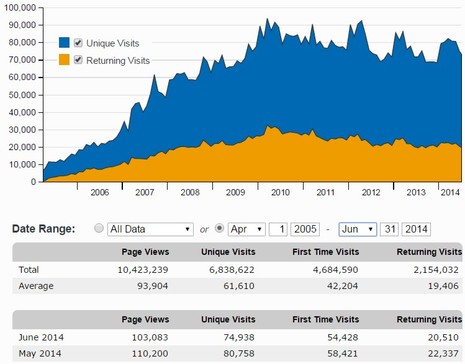 Panbo History and Future
Panbo was started in early 2004 by Dutch web guru
Yme Bosma
. He was interested in the then-new phenomenon of blogging, and he seriously enjoys marine technology (
check out his new electric boat project
). I was one of many readers who enjoyed his entries until he got too busy with his real work that fall. When Yme sought a new editor, I volunteered and put up
my first entry in April, 2005
. Frankly, it began as a bit of a lark––a way to learn how to write faster, I hoped––but more than 2,000 entries later, Panbo is the center of my work life and the source of great satisfaction. Instant publishing often means instant feedback, and Panbo has collected a group of informed commenters from all over the world. We all learn together. Plus, the companies that develop marine electronics often read those comments, and thus Panbo has become an agent of change. All good.
A
Forum
was added to Panbo in 2009, and in 2012 we added a
classified advertising section
to help readers turn over their old electronics. In 2018 I hope to spark more life in that section (hey, it's free!), and I continue to search for guest writers, even potential staff writers. Panbo has survived some hard times in the marine industry, and I hope it will continue to thrive even as I become more of a bionic old geezer. Thanks to all for visiting and especially for contributing.
Ben Ellison
Well, sure, let's talk about
me
! I've lived in Camden, Maine, since 1971, when I bought a
1946 wooden sloop
(same vintage as
me
) that was moored here. I was planning to sail around the world, but...um...never made it.
I did live aboard
Alice
for most of the 70's, ran her as a daysailing operation, and cruised twice to the Caribbean (with just a VHF radio and a depth flasher for electronics). During that decade I also worked on oil field boats off Louisiana, tried my hand at commercial fishing, delivered yachts and taught navigation/seamanship in many venues including
offshore on a barkentine
. By the 80's, the boat had morphed into a home-built home and I even started a totally non-nautical business (which at least got me into personal computers early). I did keep up the deliveries and teaching, managed some boats, and in 1985 began a five year stint as director of the
WoodenBoat School
. I still get a pitter-patter when I visit there. The 90's? Back to boat deliveries and teaching, a house addition, work for a tide prediction software company, and eventually a stint as editor of Reed's Nautical Almanacs. That job was more about marine software and data manipulation than sentences, which is partially how I transitioned into writing about electronics.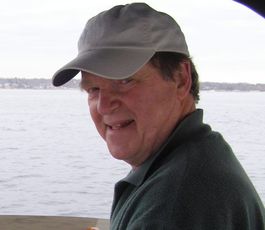 I got started at
Ocean Navigator
in 1999 and became Electronics Editor at
Power & Motoryacht
in 2001, added
Sail
in 2004, and then
switched over
to the position of Senior Electronics Editor at
Bonnier Marine Group
in early 2009. In 2013 I switched teams again, returning in a sense to
PMY
and
Sail
, which are now part of the
AIM Marine Group
along with
Soundings
,
PassageMaker
, and
Yachts International
. I now write primarily for Panbo, whose content is shared with AIM websites and publications, but I also work behind the scenes with AIM editors and electronics writers. In 2015 I hope to again spend significant time aboard the 37' Duffy "lobster yacht" dubbed
Gizmo
, a near perfect platform for testing electronics along the beautiful coast of Maine and further afield. I'm proud to add that my work has received numerous honors in the
annual Boating Writers International writing contest
, especially the first place Original Online Content award to Panbo in 2011
and again in 2012
. And
again in 2013!



Where am I?
I enjoy trying various online boat tracking technologies and Gizmo can often be found via my
Marine Traffic AIS
or via my Garmin inReach Share Map:
Panbo Facebook Entries